Pro Combo - Goose Package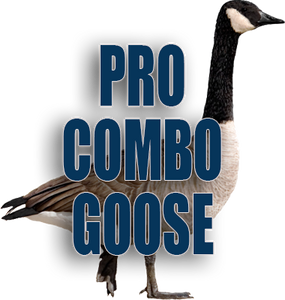 Pro Combo Kit - Goose


If you are looking for the major parts for a goose mount (Eyes, Body, Artificial Head), and don't like clicking around picking out the parts, the ProCombo Kit is for you.
You pick the species and the sex, we'll pick the parts required and send it to ya. Bada Boom, Bada Bing, simple as that.
You will receive:
1 Foam Body (species specific)
1 pair of convex, concave glass eyes (species/sex specific)
1 Artificial Head. (optional pre-painted available)
If you are getting a Canada Goose Pro Combo, Please click Here to see a comparison of the different Canada Goose Heads.
ROSS GOOSE -- Please specify if you want the RT206 (small bumps)or RT208 (large bumps) heads in the Comment Section of the Order Page.
Ross goose
kits ship with the PD5 for a body. If you would like a G1 body, please specify in the Comment section.